Edgewood at the Gables is an affordable apartment community for those 62 and older and has income restriction guidelines and student restrictions.
HOUSEHOLD SIZE: Includes each person who will reside in the home.
HOUSEHOLD INCOME: All income from any income source, including but not limited to, all wages, social security payments, retirement benefits, military and veteran's disability payments, unemployment benefits, welfare benefits, and interest and dividend payments.
MAXIMUM ALLOWABLE HOUSEHOLD INCOME: HUD (US Department of Housing of Urban Development) publishes annual income limits based on household size that are used to determine the maximum household income.
If all household members are full time students, please call the office to discuss.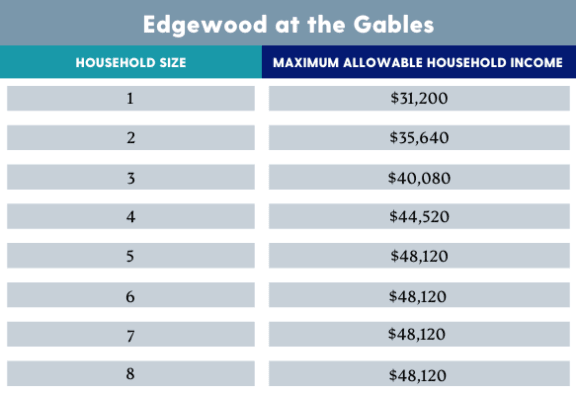 The application fee is $30.
Security Deposit is $300 for a one bedroom or $350 for a two bedroom. $100 of the security deposit is due at time of application as a holding deposit.
Testimonials
These apartments are lovely, very spacious and the buildings are single level with no noise from above. I moved here last year because of the noise level at my previous apartment complex. My neighbors here are very sweet and we have become great friends. The maintenance staff always make sure we are taken care of and are friendly and courteous. I can see myself here for many years to come.

- Charlotte S.
Very nice income based for 62+. I picked a unit and I can't wait to move.

- Jane M.
Very nice place. Good vibes.

- Gail W.